CLASS SCHEDULE
Please view our Class Policies
Photos are a representation of what we will attempt to create in class. Substitutions for flowers is always possible depending upon what's available and in season. Class participants will receive 15% off any gift purchases made in our gift shop!
---
Wine & Design at Stems - Centerpiece 101
When: Tuesday, July 16th - 6pm
Cost: $75 per person OR 2 or more people can sign up together for $70 each!
Are you looking for the perfect gift for someone?
Maybe an engagement gift or the perfect Girls' Night Out? ... Let's design!

Join us for a FUN-FILLED two hour class and leave with a beautiful arrangement that you designed!
Introducing our "Wine & Design" Series starting with "Centerpiece 101."
SPECIAL OFFER
Stems Shop purchases will be 15% OFF the night of this class!
Pinterest makes it look easy, but there is a real art to making the perfect centerpiece. The good news...we've made thousands of them and we can share some of our secrets with you!

This class can help you decide what flowers, shapes and style you want at your party or reception too!

Class fee includes the flowers, supplies and the vase for you to take home. We will discuss and demonstrate 3 different styles.
Feel free to bring your own wine or beverage, or enjoy a glass of ours.

Call 314-972-7832 to register, or register online starting Wednesday, June 26th -- LIMITED OPENINGS
---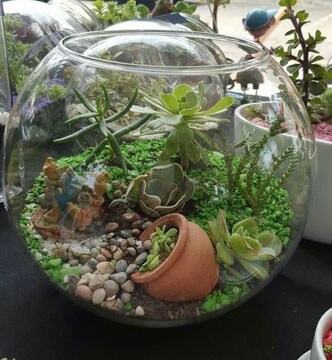 Summer Floral Design Classes
Terrarium Workshop
When: Monday, July 22nd - 5:30pm
Cost: $65 OR 2 people sign up together for $60 each!
Hello, Summer!

Create a Beautiful Summer Succulent Terrarium!
All the succulents, decorative elements and materials to create this mini green oasis for your home!
---
Summer Blooms Design Class --
JUST For FUN!
When: Thursday, July 25th - 5:30pm
Cost: $45 a person OR SAVE $5 when 2 or more people sign up together.
Your choice of Silver Vase Carrier and 3 Vases (you will use this for years!) and then we will fill with Summer Blooms, Greens and Grasses ...
Learn how to design with flowers from a Florist, from a Farmer's Market or from your own garden/yard!
Call 314-972-7832 to register

*Class size is limited to 10 people. Arrive at 5:30pm -- class starts at 6pm. Great parking right up front -- cool beverage included!!